Free online training for your staff, carers and volunteers to help adults with learning disabilities unlock their employee potential.
As someone working with adults with learning disabilities, you know they are people who can and want to work for a fulfilling and independent life. With the right support, they can be a motivated and reliable workforce.
But helping people with learning disabilities into the workplace isn't easy. And thanks to Covid-19, the challenge has got a whole lot bigger due to rising unemployment, increasing reliance on digital skills and remote working. 
 

Aspire can help
Aspire will train your staff, volunteers and carers as mentors, or Champions, as we like to call them. Through online learning, they'll build their knowledge, confidence and teaching techniques to help adults with learning disabilities find their potential, find work and find their chance to shine.
The e-learning is flexible, bite-sized and has been created with Mencap, who work every day to improve the lives of people with learning disabilities.  The collection of eight courses cover topics such as:
uncovering the right work or volunteering opportunities for people with learning disabilities 
improving a learner's confidence and addressing their anxieties
helping an adult with learning disabilities develop their essential digital and vocational skills
getting a foot in the door and preparing for a successful start to work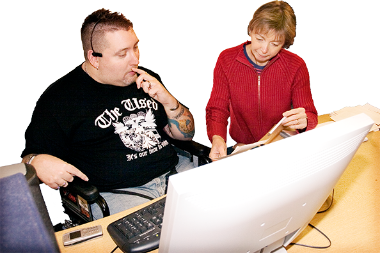 The e-learning is professionally verified through certificates and digital badges and comes complete with practical resources.
Plus you and your Champions will be part of the Aspire community, where everyone will share ideas and experiences on helping others.
As a pilot, Aspire also gives you the chance to shape your own training needs in employment skills support, both for your staff and volunteers and adults with learning disabilities.
So, are you in?
To register your interest in Aspire just complete this short application form. We'll come back to you within three working days to talk through the next steps.
Initially, getting involved will simply mean nominating a handful of people who would:
benefit from this new training and support between November 2020 and March 2021 and
be willing to give regular feedback on their experience as an Aspire Champion. 
Then we'll do the rest.
If you have any questions before you complete the form. email Aspire's Programme Lead, Kathy Valdes on  kathy.valdes@digitalunite.com. 
 
Register to participate in Aspire