There used to be a time in the not-too-distant past when every picture you took came back as a print. You sent your film to be developed and you'd get prints back in return. In the age of digital photography, we make fewer prints, but those we do are often special images for one reason or another.
It's very simple to print photos using your printer at home or get them printed online through one of the many web-based services. You'll need a photo software program as well. In this guide, I've used the free Windows Live Photo Gallery (see our guide How to download Windows Live Photo Gallery for more information). However, you'll find that other programs such as Photoscape and Paint.net follow a very similar process.
You'll need:
a computer with Windows Live Photo Gallery installed
a printer connected to your computer, with a supply of paper
an internet connection if you plan to print photos via an online photo printing website
an account with one of the online photo-printing websites listed below (these are free to set up).
Follow these step-by-step instructions to print photos
Printing photos on your own printer
Step 1: Once you've opened Windows Live Photo Gallery, click Home at the top left of your screen.
Step 2: Next, find the photo you want to print and click on it once to select it.
Step 3: In the top left corner of your screen, you will see the 'File' button, which is marked with a small square icon. Click this and a drop-down list appears offering you a range of functions.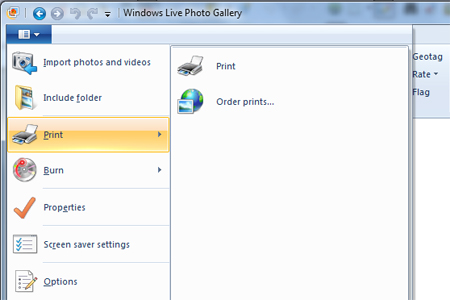 Step 4: Move your mouse pointer over 'Print', the third option down, and a side menu will appear. Click the top button: Print.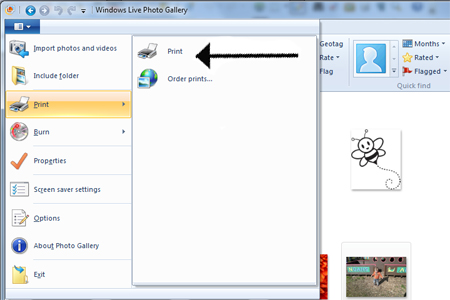 Step 5: A pop-up window will now appear asking you: 'How do you want to print your pictures?' It will ask you to select the paper type and size, as well as the quality of your print. You can also at this stage select whether you want to make a full-page print or choose from a range of smaller sizes, including tiled, wallet-size prints.
Step 6: Click Print and your photo will begin to print on your home printer.
Getting photos printed online
If you'd like to get your photos printed online, Windows Live Photo Gallery can still help.
Step 1: To get started, repeat Steps 1, 2 and 3 above.
Step 2: When the side menu appears, click the bottom button, Order prints.
Step 3: A pop-up window will now appear and scan the internet for online photo-printing companies near you. When Windows Live Photo Gallery has found relevant websites, select the one you want to send your photos to and click Send Pictures.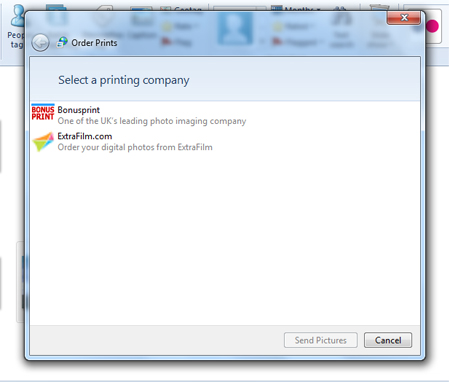 Step 4: A final pop-up window will appear asking you again if you're happy to send your photos to the selected photo-printing website. Don't be annoyed – your computer is just trying to look out for you! Click Send if you're happy to do this. Windows Live Photo Gallery will then upload your selected photos to the website.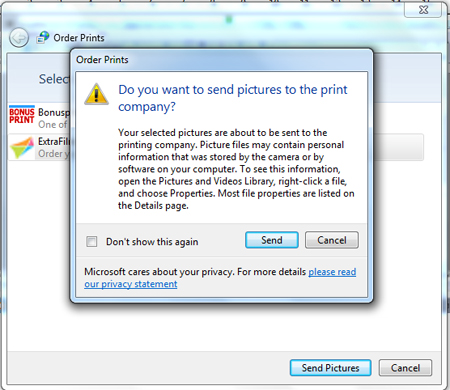 Step 5: You'll then be asked either to log into or register on the photo-printing website, where you'll be able to order your prints.
Jeff Meyer writes about camera techniques and other aspects of photography for PhotoRadar.com.