Starting Point Stockport
Tell us about your event?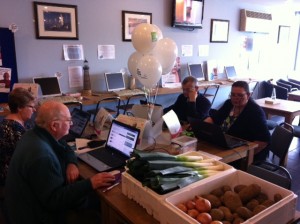 This was our third Spring Online event. Fish Peas & Family Trees – our taster session of the Find My Past website and a look into creating your own family tree with our genealogy expert, in the great venue of our local chip shop. We had volunteers manning our laptops in the shop itself and then held taster session in the training room upstairs, stopping – obviously – for lunch! We held six separate taster session throughout Spring Online with 10 people in each session (this doesn't include those popping on to the laptops within the chip shop itself). We were delighted to welcome Nick Clegg to one of our sessions on the day before the local council elections.
Did your event bring people from different generations together?
We had a number of different generations of the same family attending our sessions. Some older learners were anxious about using a computer and brought along more experienced members of their own family to help out. We found that this topic [genealogy] allowed us to attract multiple generations more than any other taster topic we have tried in the past. It has been, by far, the most successful topic to encourage people to get online. We have really enjoyed giving people the suggestions for why to get online and the benefits it can give them.
What went well at your event?
The novelty of our venue helped attract people who would not normally come to our IT classes. Nowhere is further removed from a formal learning environment than the local chippy! Our choice of topic was also hugely successful. We were encouraged that we had to add further sessions because of demand. We had also pre-planned a list of follow up sessions so we could keep learners once they had attended the taster sessions. Having some laptops downstairs within the chip shop itself also worked really well and created a great buzz amongst customers. We were grateful to Julia from Digital Unite for helping us get some press coverage, in particular the radio piece at Pure FM which led to eight new learners. Our visit from Nick Clegg also allowed us to showcase what we have been up to a national audience. He was extremely impressed with the activities and called it a "haven for learning".
What advice would you give potential event holders?
Make sure you do not raise the expectations of your learners. This was a taster course – in an hour we would not have been able to complete each learner's full family tree. Make sure you have scheduled dates for future courses or know other local organisations (e.g. libraries) that can help.