A guide to copyright online
Matters of copyright, especially on the internet, can seem to be murky waters. This guide explains the basics of copyright and offers tips to help keep you on the right track when you're online, whether you're protecting your own intellectual property, or using someone else's. Please note that the information included is intended as a basic guide only. It is not intended to constitute legal advice and should not be relied on as such.  There is a glossary at the end of this article which explains copyright terminology you might be unfamiliar with.
When a person or organisation creates or designs something, their 'intellectual property' can be protected in one of three ways using copyright, trademarks and/or patents.
Copyright, which we will talk about in this guide, protects creative expression which has been transformed into a piece of work such as a book; a painting or photograph; a piece of recorded music; a song, computer software; a film or video; a website; and a blog.  It arises automatically, and in the UK there is no need for registration.
In order to set copyright in a context with its intellectual property partners:
Trademarks protect brand names, helping to protect consumers by promoting confidence in the 'pedigree' of the goods. An example is that if you choose a computer manufactured by a company with a well-known brand, you can be relatively confident that it will be reliable, and that if it isn't, the company will work hard to put matters right.
Patents protect the ideas and innovations of people and organisations, that haven't yet been turned into a tangible piece of work, giving them the opportunity to profit from their ideas.
Now, back to copyright:-
Although a large variety of content appears to be openly available on the internet, you can't necessarily just download and use it freely. Because of copyright law, you need permission from the owner of the 'original works' to copy, adapt, and/or distribute content found on the Internet, even if it doesn't have a copyright symbol and/or statement by it. The good news is that a great deal of content is available, under a range of different terms and conditions, without the need to contact the owner directly. 
Probably the most frequently encountered areas of concern are those surrounding the use of images and music.  However, the use of written materials, videos, films and TV programmes, and of course computer software, can also be problematic.  To further complicate matters, different rules apply for different types of use.  Some products can't be used at all, under any circumstances; others can be utilised, but only for personal use; yet others can be used and adapted or changed for personal use; some others can be used for commercial use, but not adapted; and some are a free for all. Generally, if you do use someone else's material, you must acknowledge very clearly the original author, usually with a link back to their website - but even this is not always the case. Because of the huge array of different arrangements, it's always important to read any instructions on the website extremely carefully before you use others' content.
One of the best ways to ensure you're not infringing copyright laws when you download from the internet is to use Creative Commons licensed content.  Founded in 2001, Creative Commons is an organisation which provides a free content licence known as a creative commons (CC) licence that people can apply to their work giving others permission to use it without asking, provided they only use it in the way set out in the licence. Creative commons licences make it easier for everyone to share and adapt creative work without the concern of copyright infringement.
Creative Commons Search – allows you to search and filter from a single web page to find audio, video and image content from many different websites including Google Images, Flickr, YouTube and SpinXpress. This site isn't a search engine, but offers convenient access to search services provided by other independent organisations.This means that Creative Commons has no control over the results that are returned and so you should always verify that the work is actually under a CC licence by following the link. If you're still in doubt, contact the copyright holder directly, or try to contact the site where you found the content.  Creative commons licences are of six types:-
Attribution;
Attribution – No derivatives;
Attribution – Non commercial – No derivatives;
Attribution – Non commercial;
Attribution – Non commercial – Share alike;
Attribution – Share alike;
The glossary at the end of this guide fully explains the meanings of each of the categories, but in brief:
Attribution means content can be used, but must be acknowledged;
No derivatives means that the content cannot be changed in any way;
Non commercial means that the content can only be used for personal purposes which don't generate revenue;
Share alike means that any new products made from content used must be shared in the same way as the original material.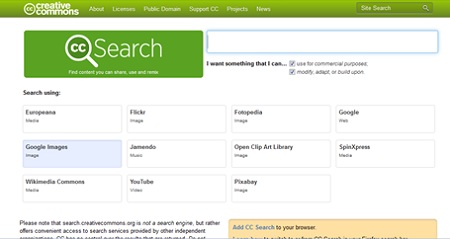 Let's look at some of the copyright issues around different types of content, and also some good sites to use to look for content.
Audio, including music, (for listening and including in videos)
Downloading, sharing, swapping or trading music files over the internet can leave you wide open to copyright infringement and even the possibility of a civil legal action. Always be careful with your choice of download sites to make sure that any music they offer (free or otherwise) is copyright free. Remember to always read the small print carefully. Some sites offer royalty free music to use in different projects, but will start to levy royalty fees if your project begins to generate revenue. Always be careful to acknowledge any downloads as stated on the website. Some good sites to access copyright free music are:
AudioSwap -  YouTube's authorised music library for use in videos;
Free Loops – a selection of loops and sounds available for one click download;
Jamendo – 350,000 tracks to stream, download and share;
www.Music4YourVids.co.uk - music to create atmosphere for your videos on YouTube and elsewhere;
Open Music Archive – a selection of out-of-copyright sound recordings
Purple Planet - Free collection of royalty free music that can be used in videos and on websites in exchange for a link to Purple Planet's site.
Public Domain 4 U - music available from before 1922, now in the public domain.
Books
A large selection of copyrighted books can be downloaded free from the internet, although copyright restrictions are still vested in their creators and must be observed, e.g. no copying, adapting or distribution. However, there are also many books now in the public domain, which are made available completely free of copyright restrictions through a variety of e-book stores including:
Free-ebooks – over 11,000 free ebooks;
Google Play - books, movies, music, apps and games in one online space;
Gutenberg.org – The first project for converting public domain works into digital format, they now offer over 39,000 free ebooks that can be downloaded or read online;
Haithi Trust -  Free to download 123 miles, 8,453 tons, 3,095,003 volumes - about 30% of the total books in the public domain;
ManyBooks.net – more than 29,000 eBooks available for Kindle, Nook, iPad and most other eReaders;
Open Library - Open Library is an open, editable library catalog, building towards a web page for every book ever published.
Computer Software
There are so many new computer programs available for download off the internet that making an informed choice can be really difficult. Computer software is of four main types:
Commercial software
Computer programs that are designed, written and marketed by commercial software developers, which you pay for at the point of purchase and which are fully copyright protected - for example Microsoft Office.
Freeware
You can download, use and copy freeware programs without restriction.  Whilst they have the advantages of being free, a potential disadvantage is that there is no real way to get support for them, or to make improvements.  Freeware usually, but not always, comprises small programs developed by enthusiasts. An example of freeware is Malware Bytes, an anti-malware tool.
Open source software
Similarly to freeware, open source software is generally free to download, use and copy without restriction. With open source, however, the source code is available to all potential users, who can use, modify, and re-distribute it. In practice open source software and support services are free to both users and developers, although ancillary services can sometimes be charged for. Most open source software is produced and developed as part of a collaborative and supportive community which means that it continues to benefit from future updating and enhancement, and the user isn't dependent upon one single organisation for this.  Apache Open Office a free alternative to the commercial Microsoft Office programme is an example of open source software.
Shareware
You can download and try shareware for free, but if you use it, you have to pay for it. It is a 'try before you buy' software offer with full or limited program features. With shareware, the original creator keeps full control of the intellectual property. In effect shareware is little different from commercial software, its main benefit being that you can download and try it for free, without upfront investment. In the same way as commercial software, you are dependent on a single developer for support and enhancements. Shareware is usually written by a professional developer or small software company.  An example of shareware is MP3 Cutter and Joiner, a program which cuts and joins MP3 and WAV audio files - it's free to try (5-file trial) and then $24.95 to buy.
You're not permitted to download copyrighted images from the internet or scan copyright images from books or magazines. However there are ways to filter your searches on the internet for commons creative images, and/or to check where an image comes from before you download it.  
As well as using Creative Commons Search to find copyright free material, you can use Google Advanced Image Search.  You can select a filter to Find images you are free to use yourself.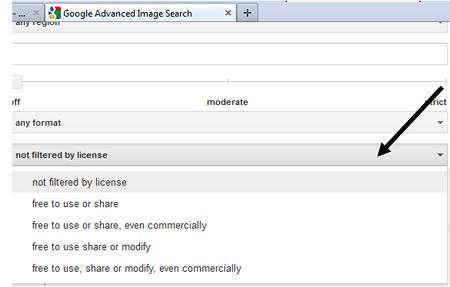 TinEye is a reverse image search engine you can use to find out where an image came from, how it is being used, and if higher resolution or modified versions of the image exist. It's quite simple to use; you just upload an image or type the link to the image into TinEye. 
Some good sites to access copyright free images are included below. Be careful to acknowledge any downloads as stated on the website.
FindIcons.com – an icon search engine that helps you find free icons;
Flickr – (an online photo sharing site). Any images marked as "All Rights Reserved" are copyrighted and require permission for use from their creator.  Those marked as "Some Rights Reserved" have a creative commons licence in place. You can use Flickr's advanced search facilities to search only within Creative Commons licensed content, and to further filter to find content that can be used commercially and/or modified, adapted or built upon;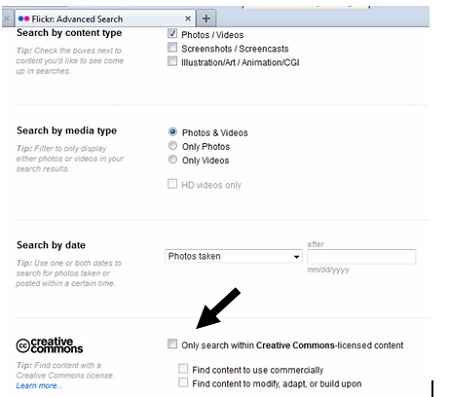 Kozzi.com   – offers free download of photos, clipart and videos for personal use;
Morguefile – free photographs that you can adapt and use for commercial purposes, without attributing the original author;
Open Clipart Libary –  a selection of clipart that is in the public domain – i.e. no copyright protection exists for it, meaning that it can be copied or used in any way;
StockVault.net – offers a selection of free images, as well as commercial packages.
When taking and using your own photographs it's important to remember that in cases where a private photograph has been commissioned for private and domestic purposes, although the copyright is owned by the photographer, the subject has a right to prevent any general distribution, exhibition or communication of it.
Social networking sites
When you upload your content to social networking sites such as Facebook, Myspace, Bebo and Twitter, you retain copyright in it, but grant them a licence to use and display it. Potential copyright infringements can easily occur with these sites, especially in the misuse of copyrighted images and videos. 
Twitter says, in its Help Center that it will respond to reports of alleged copyright infringement, such as allegations concerning unauthorised use of copyrighted images as account backgrounds or avatars, or uploaded through their photo hosting service, or Tweets containing links to allegedly infringing materials. Facebook also confirms that it respects the intellectual property rights of others and is committed to helping third parties protect their rights, offering a range of copyright infomation in their Help Center. If you are unsure of an individual networking site's policies and procedures, these will usually be clearly outlined in a similar manner to those of Twitter and Facebook, and if they aren't for some reason, it's worth thinking very carefully about whether you want to be a part of that network.
In cases of alleged infringment social networking sites reserve the right to remove content without notice or liability. Repeated infringement is likely to lead to termination of a user's account. 
Videos/TV (Watching)
It is unlawful to make your own recordings of copyright videos and TV programmes.  There are, however lots of ways to catch up with missed programmes. BBC iPlayer lets you download programmes to the BBC iPlayer Desktop to watch for a limited period. Other websites such as Virgin Media don't permit downloads, whilst others such as 4oD use Apple Quicktime and Apple iTunes to download TV shows. These are not time limited, but you do have to pay.  For further information see the Digital Unite guideon  How to watch tv online.
Videos Creating
You can visit YouTube's Copyright Center to find out how to create and watch YouTube videos safely within copyright law. The best way to ensure your video doesn't infringe someone else's copyright is to create your own recording from scratch being careful to ensure that any music or images you use are also either your own original creation, subject to a Creative Commons licence, or in the public domain.
Copyright legislation
Currently, copyright law in the UK is governed by the Copyright, Designs and Patents Act (1988) which has been subject to various amendments over time aimed at bringing the Act in line with EU Directives, various international treaties, and the new copyright challenges posed by internet use. 
Copyright (Visually Impaired Persons) Act 2002 amends the 1988 Copyright, Designs and Patents Act to allow a visually impaired person to make and keep 'a single accessible copy for personal use'. Certain approved organisations are also permitted to make accessible copies of works and distribute them to visually impaired users.
Additionally, the Digital Millennium Copyright Act (DMCA) became effective in October 1998, implementing two World Intellectual Property Organization (1996) treaties. Specifically drafted to control internet piracy, the Act makes it a criminal office to produce or distribute any technology, services and/or devices intended to bypass measures that control access to copyrighted works. The act of bypassing access control measures is also a criminal offence within the Act, immaterial of whether or not copyright infringement occurred. The DMCA also increased penalties for internet-based copyright infringement.
Copyright ownership and longevity
Normally it is the individual, group or organisation who creates the work who has exclusive ownership of the rights, although a piece of work created as part of employment normally belongs to the employer.  Rights for freelance or commissioned work will usually belong to the creator unless an agreement exists to the contrary.
The length of time copyright remains in force varies depending upon the type of work. 
Literary, Dramatic, Musical and Artistic works: copyright expires 70 years from the end of the year in which the author dies.
Computer generated works: copyright expires 50 years from the date the work was created.
Broadcasts: copyright expires 50 years from the end of the year of broadcast.
Sound recordings: copyright expires 50 years from the end of year in which the work was created or published.
Published editions: copyright expires 25 years from the year of first publication.
Glossary of Terminology
| | |
| --- | --- |
| All rights reserved | You are not allowed to download and/or use the content in any way.  The copyright holder reserves, or holds all the rights provided by copyright law for their own use. |
| Attribution | You are free to use the content, provided you let others know where you got the information, including a link to the site. |
| Freeware | You can download, use and copy programs without restriction. |
| No derivatives | You can download, copy, distribute, display, and perform the content - but not create new content from it. |
| No rights reserved | Applies to content in the public domain which is copyright free. |
| Non-commercial | You can download, copy, distribute, display, and perform the content - and create new content from it - as long as you won't profit in any way from doing so: for non-business purposes only. |
| Public domain | Copyright free - all rights have either been waived, forfeited or have expired.  Once placed in the public domain, content may be freely reproduced, distributed, transmitted, used, or adapted by anyone for any purpose, including commercial. |
| Rights managed | You rent the content from an individual or agency and a price is agreed for a specific use.  You will  need to pay an additional amount if you use the content for any other purpose. |
| Royalty free | You pay a one-off fee to use an image, which you can then use as many times as you wish, i.e. you don't have to pay royalties each time you use it. |
| Share Alike | Anything new created from this content must be shared under the same licence. |
| Shareware | With shareware, the original creator keeps full control of the intellectual property, but you have the opportunity to 'try before you buy'. |
Jacklyn Williams is a Digital Unite tutor.
Got a question?
Got a question?
Click here to ask our online community and tutors.