How to buy wholesale
Buying in bulk at wholesale prices can make sense both for everyday essential items that you use time and time again and for supplies for special events from a small family celebration to a huge wedding party. You can save money, time and inconvenience by shopping less often, avoiding tiring shopping trips, additional spending temptations, long check-out queues and heavy bags to carry back home.
In this guide you'll learn, step-by-step, how to navigate an online wholesale distributor's site, find the items you want, and place your first order.
We're going to use
Shorters Club
as an example of this kind of site. However, there are other sites that work in the same sort of way that you can also use.
You'll need:
a computer with an internet connection
a debit or credit card for payment.
This guide is based on a PC running Windows 7 and Internet Explorer 8, but the steps in this process are very similar for Mac users or if you're using a different browser.
Follow these step-by-step instructions to buy wholesale goods online
Step 1:
Go to
Shorters Club
, and to begin your wholesale shopping experience, click on
start shopping
.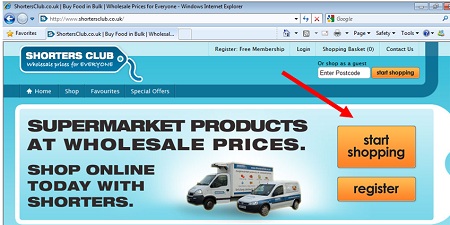 Step 2: A new page will open taking you to their online shop where you'll see tab names similar to shopping aisles: 'Groceries', 'Off Licence', 'Home & Pet', 'Kitchen', 'Health & Beauty', 'Workplace', 'Baby and Toddler' and 'Bargain Basement'. You're also able to look at 'Top offers', 'Previously Bought items' and 'what's Happening Now', which lets you see what other shoppers are viewing, rating, Facebook 'liking' or buying.
If you click on these names you can browse the site, much like wandering around, looking at the contents of different aisles of a store.
Before you start to shop, so as you'll see only products that are available from your nearest depot, enter your delivery address postcode and then click start shopping. You'll see the postcode you entered confirmed on the top right-hand side of the screen. (If you've made a mistake, you can simply click change postcode.)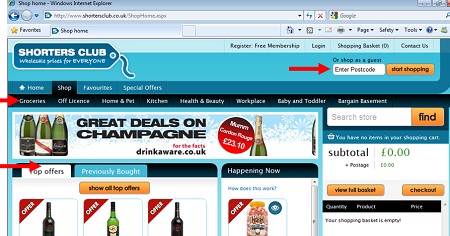 Step 3: If you know what you're looking for, you can refine your search straightaway by typing key words into the 'Search store' window and then clicking find to go to matching items, for example 'pet food'. Your options will be displayed. You can sort these by price or name, and choose to see 20, 40, or 60 products on a page.  If you're happy to shop in this way, move on to Step 6 of this guide. Otherwise move on now to Step 4.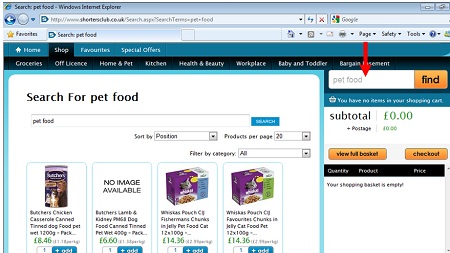 Step 4: Hold your mouse pointer over a tab to see a compartmentalised list of its contents.  In our example, Groceries is sub-divided into 'Food Cupboard', 'Confectionery', 'Crisps & Snacks', 'Drinks', 'Tinned & Packet' and 'Bakery'. Each of these is further sub-divided into different products, for example under Confectionery you can choose between 'Sweets' and 'Chocolate'.
Step 5: Click on a product category that interests you to find out more. At this stage, you can either filter further by clicking on a chosen sub-category, or browse through all the products in this section.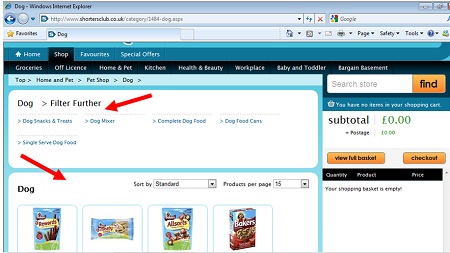 Step 6: Click on the picture or description of an item to be taken to the details of that item.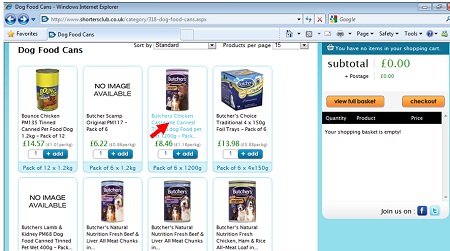 Step 7: You can now 'click to see more details…' or look at related products. It's also possible to email to a friend, add to favourites, or Facebook 'Like' the item.
If you like what you see, simply click on + add to basket. Doing this will save the details of this item until you're ready to go to the checkout, just as if you'd put a product into your shopping trolley. The default quantity is set to one pack; if you want more of any item, simply click + add until you get the number you need. You'll see the item(s) and the current sub-total appear in your Shopping Basket on the top right-hand side of the screen. This is where you can most easily make any later changes to the quantities you've selected by clicking + or – next to each item. As you change the quantities you'll see the subtotal change. After adding each item to your basket you can click to choose to continue shopping by clicking another tab, view full basket or checkout.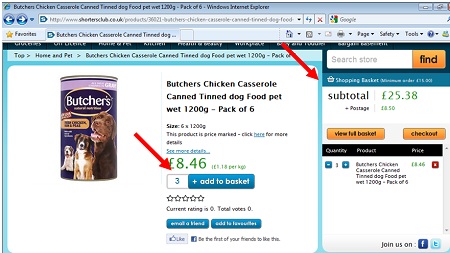 Step 8: Continue shopping until you've all the items you need. Unit prices for each item, together with the current sub-total and postage cost continue to appear in your 'Shopping Basket'.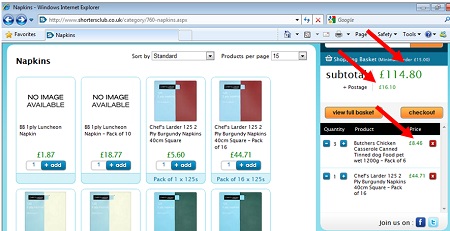 Step 9: At any time, you can click on view full basket for an overview of your shopping. At this stage, if your shopping basket contains any alcohol or tobacco products, you will be asked to confirm that you're over 18. Also from this screen you're able to remove items by ticking the relevant tick box. You can also amend quantities by clicking into the 'QTY' window to the left of the number, pressing delete on your keyboard to clear the original number, and keying in the new quantity.
(After any changes, remember to click on update basket.) You can also enter any ' Discount Codes' and 'Gift Card' codes. After you've viewed your full shopping basket, you can continue shopping or checkout.
Step 10: When you're ready, click the checkout button. This will bring you to a four-stage secure checkout screen. Before entering any personal or payment information online, always check that the website is secure. This is indicated by a yellow padlock icon at the top of the screen and a website address that starts with 'https://' (the 's' stands for 'secure'). Always take the utmost care to ensure your online safety.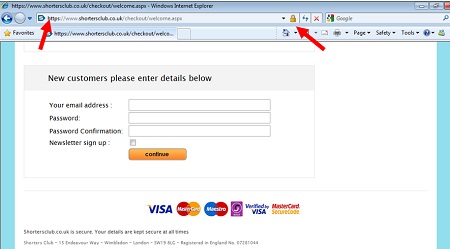 Step 11: As you'll be new to their website, you'll be asked to enter your email address and a password. Be very careful to choose a safe password, which has to be entered twice to check for accuracy. (You must fill in all this information, but don't worry, if you miss an item you'll be prompted and not allowed to go further until you've completed the page.)
You can also tick to sign up to a newsletter if you wish. When you've done this, click on continue to move on from the 'Welcome screen'.
Step 12: The 'Delivery screen' asks for your name, delivery address, and contact phone number. You must fill in an item if it's marked with an asterisk (*), but again you'll be prompted if you miss any information. When you're ready click save address to move on to the second 'Delivery screen' where you can choose FedEx Express delivery or tick the appropriate box if delivery needs to be made between 9.00am and 5.00pm. You can also type in any special delivery instructions. When you've done this, click on continue to move on to the 'Payment screen'.
Step 13: At the Payment screen, if you haven't already done so, you'll have another opportunity to "Sign up to the Shorters Club Newsletter for latest deals & news direct to your inbox". You now need to enter your credit or debit card details, and click place order if you're happy to make the payment.
At this point, if you've signed up for 3-D Secure – an added layer of security for online credit and debit card transactions – such as Visa's 'Verified by Visa' and MasterCard's 'SecureCode', you might be asked for another password. Enter this as required.
Your order will start to be processed when you've entered your payment information successfully and you should see a confirmation message on screen. You should also receive an order confirmation email.
Jacklyn Williams is a Digital Unite tutor based in the South West.
Got a question?
Got a question?
Click here to ask our online community and tutors.