How to bank online
Most large banks now offer highly secure, sophisticated online banking. You can still go to your high street bank as normal, but internet banking can be used to access your account and make transactions whenever you like and wherever you are.
In this guide, we're going to show you how to sign up for online banking and make a payment. We'll be using NatWest as an example, but you'll find that most large banks follow similar procedures.
You'll need:
a computer with an internet connection
a bank account
your bank account details, such as bank account name, number, and sort code 
debit card details (if you have one)
to be aged 16 or over.
This guide is based on a PC running Windows 7 and Internet Explorer 8, but the steps in this process are very similar for Mac users or if you're using a different browser, such as Chrome/Firefox/Internet Explorer 9/Safari, etc.
Follow these step-by-step instructions to bank online
Step 1:
Go to your bank's website. If you don't know the internet address (url), type the name of your bank into a search engine such as
Google
and click on the link that appears. For this example, we are using Natwest. 
Step 2: On the bank's home page, click Find out more and register to start the registration process.

Step 3: Banks realise that many people have concerns or questions about online banking. As a result, they'll usually offer plenty of information and guidance. In this example, click Play Demo to see a short video about online banking, or click take a tour of the service to read more details. When you're ready to register, click Sign up now.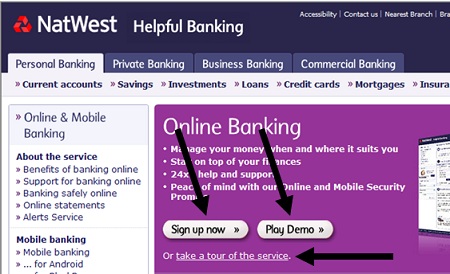 Step 4: A new window will open offering you additional background information. Click Sign up now to move on.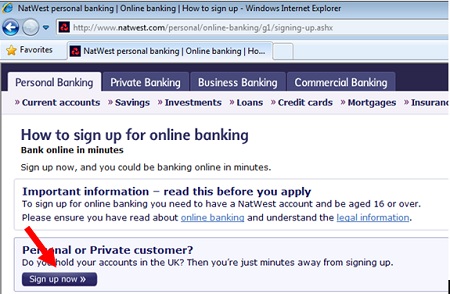 Step 5: A new secure window will open. Before you enter any personal or payment information online, always check that the website is secure. This is indicated by a yellow padlock icon at the top of the screen and a website address that starts with 'https://' (the 's' stands for 'secure'). Always take the utmost care to be safe online.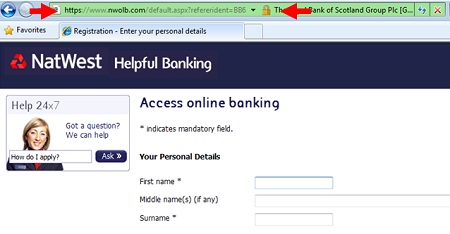 Step 6: You're asked to fill in personal details such as your name, date of birth and email address in the boxes provided. Fill in the details and click Next.

Step 7: You'll now be told to fill in your bank account details, such as your account number, sort code and debit card number. Click Next when you've filled in all the required boxes.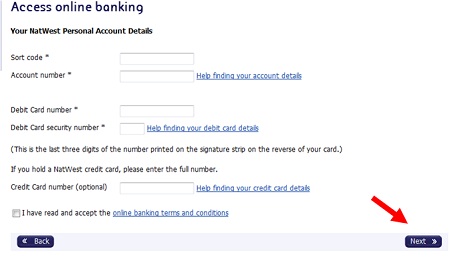 Step 8: A new page will open with your customer number. This is your online banking reference number, and you'll need it every time you log in to online banking. When you've a taken a note of the number, click Next. (To be safe, try to memorise your number and then destroy the note.)

Step 9: As part of your bank's security system, you'll now need to choose a PIN number and password. You must have these as well as your customer number to log in to your account online. Once you've confirmed your PIN and password, click Next.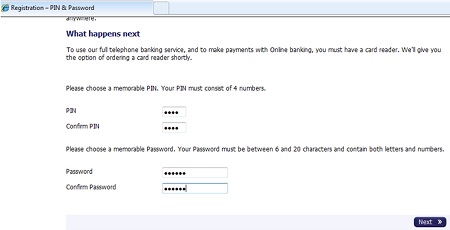 Step 10: A new page will open welcoming you to online banking and confirming your details. You can also choose at this point whether or not to receive paper statements and information. If you're happy to proceed, click Confirm and continue.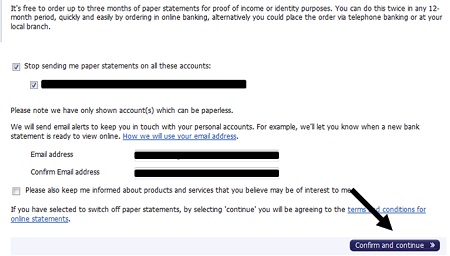 Step 11: As a card reader is needed to carry out the full range of services with NatWest, you're given the option to order a 'card reader' here. Click in the box to accept or reject, and then click Next.  
Step 12: You'll now be shown your 'Accounts Summary' page, which will open every time you log into online banking in the future. Here you can see the balances of any bank accounts you have with this bank. Click Statements to see up-to-date statements containing your recent transactions, as well as older statements.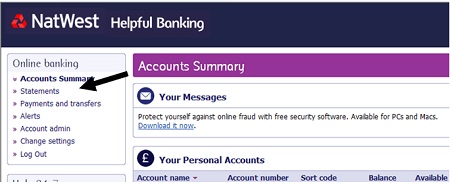 Step 13: Also on the 'Accounts Summary' page, you can click Payments and transfers to transfer money between your accounts, or to those of other people, or to set up a direct debit or standing order.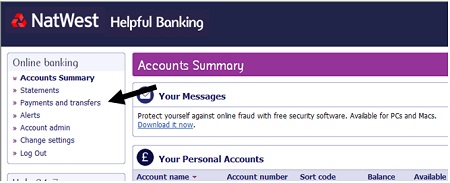 Step 14: Once you've clicked Payments and transfers, to make a single payment, under the heading 'Single payments and transfers', click Go next to 'Make a payment or transfer'.  
Step 15: You'll now need to select a payee – that is, the person you want to pay the money to.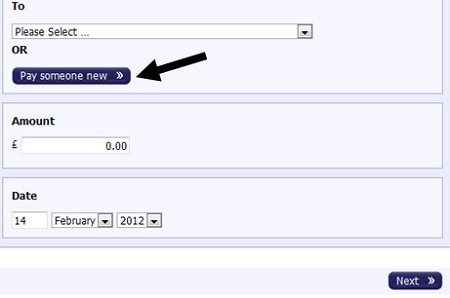 Step 16: If you're paying someone for the first time, click Pay someone new. You'll have to supply that person's name or company, bank sort code and account number, and then click Add Payee.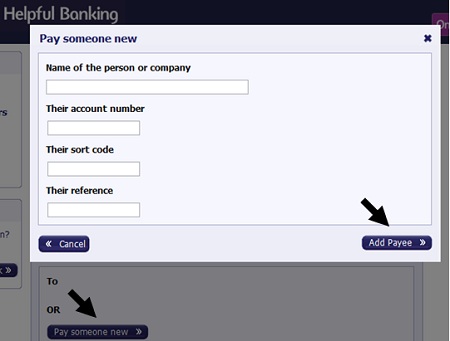 Step 17: You'll then need to confirm details of the bank account the money is coming from, the payee, the amount and the date. Click Next at the bottom of the screen to continue.  
Step 18: You come to a screen where you're asked to check your payment details. Your bank will ensure that this transaction is secure by asking for extra details such as your password, customer number, date of birth and/or PIN, or some banks, such as NatWest, will ask you to use a 'card reader' as an extra security measure. (In this case you will have to wait for this to arrive before you are able to make online payments.) When you have submitted all necessary details, click Confirm.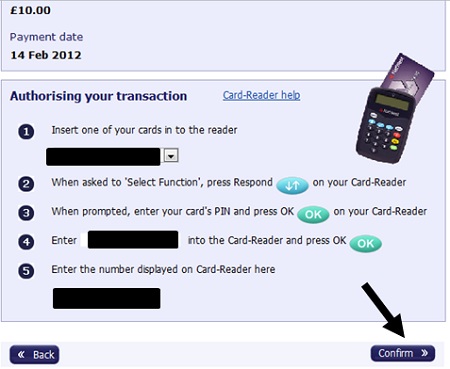 Step 19: You'll now need to confirm the payment details, including the payee's account details as well as your own, plus the amount. Click Confirm if all the details are correct. A page will open confirming that the payment has been arranged.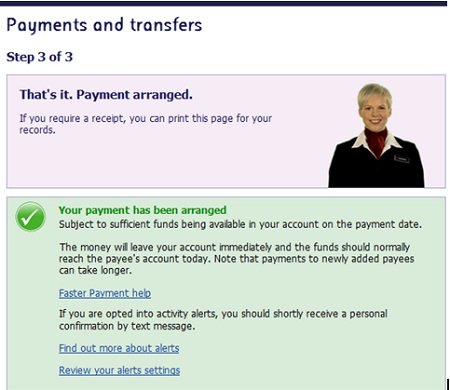 Step 20: When you've finished using online banking, it's important to click Log out at the top of the page, particularly if you've been using a shared computer, to prevent anyone accessing your bank details.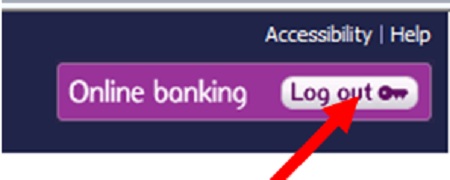 Step 21: You can return to your online account at any time. Just click Log in at the top of the bank's home page. To keep your account safe, every time you log in you'll be asked to enter several details, such as your customer number, password, PIN and/or date of birth, in the boxes provided. Then click Log in. You'll be taken to your 'Accounts Summary' page where you can view your statements and make payments.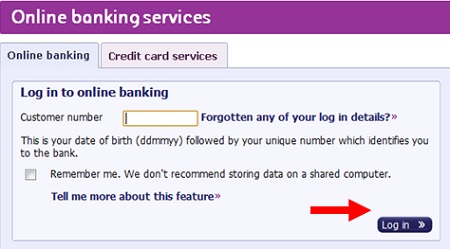 Jacklyn Williams is a Digital Unite tutor.
Got a question?
Got a question?
Click here to ask our online community and tutors.